NEWS
‣
MAKING HUMAN RIGHTS A GLOBAL REALITY
Brightening the Lives of Young Filipinos with Human Rights
Ram Vanilla is no stranger to hard work. Born to humble circumstances in the Philippines, he has pulled himself up by his bootstraps and put himself through college as a student of architecture at Eastern Visayas State University.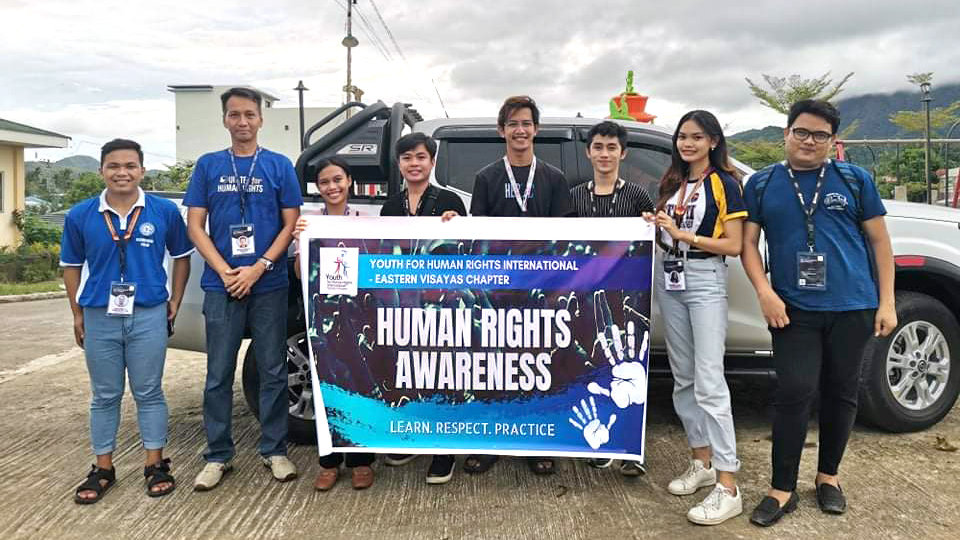 What Vanilla's family may have lacked in financial resources, they made up for with a loving and joyful household. Vanilla's parents taught him from a young age to be kind and to treat others as he would like to be treated. He credits his upbringing for his continuous involvement in various outreach activities, since elementary school, aimed at helping others.
A fellow humanitarian who has been implementing Youth for Human Rights International's (YHRI) educational materials with great success introduced Vanilla to the program. He quickly recognized the value of human rights education when he noticed the marked improvements in his own self-confidence as a direct result of learning about the 30 universal human rights. Vanilla has since extended YHRI's footprint and reach by conducting seminars to raise awareness of human rights in the Eastern Visayas.
In some cases, the results have been life-changing, and even lifesaving. Vanilla cites an instance of a seminar participant who had been having suicidal thoughts. Learning about her human rights gave her the tools she needed to reclaim a sense of dignity and self-worth and see that her life had value and was worthy of protection.
The human rights issues that Vanilla contends with are not unique to his area. People throughout the Philippines struggle to attain or retain their rights to education, shelter, equality and social security. "I became motivated to be involved with human rights education to help my fellow Filipinos know their rights and to prevent them from becoming victims of their violations," he says. "I believe that together we can spread help not only to our area but to the entire Philippines."
Vanilla conducts monthly human rights awareness seminars in partnership with other like-minded groups and organizations. These collaborations are reaching greater numbers of individuals, while also pooling resources. One such activity called Working Together for Our Children combined human rights education with a project to distribute school supplies and hygiene kits to children in hard-to-reach rural areas. "The smiles on their faces alone make this story worth sharing," Vanilla says.
And although he understands very well that the greater the funds, the more children he can help, Vanilla refuses to let underfunding get in his way. "Poverty is not a barrier to success," he says.
His ultimate goal? "To spread human rights education throughout the Philippines so no one will dare violate them," he says. "As a Filipino, I believe if you touch one life, it will illuminate the lives of many, because every human life matters. The youth are the hope of our nation. We need to help them to be aware of and protect their rights."