Putting The Gambia Back on the Map as a Human Rights Powerhouse
Nfamara Jawneh not only educates youth and the community in The Gambia on their human rights, but he makes those human rights a fact through implementation.
The Gambia—a sliver in West Africa, bounded by Senegal—was once a human rights haven, but after a 22-year authoritarian rule by Yahya Jammeh, the nation was beset by arbitrary arrests, torture and an education system described as a "national disaster."
But Nfamara Jawneh is not so easily dissuaded. Born in the rural area of the Wuli West District of The Gambia, he had the rare opportunity to obtain a proper education in journalism and management. He therefore wanted to give back.
In 2001, he formed Beakanyang Kafo, meaning "Equal Opportunities for All." He started in Wuli West with his first human rights success of opening up education to girls in his hometown for the first time.
In 2011, he found a new tool, the Youth for Human Rights materials. He established partnerships with the Ministry of Basic and Secondary Education and the National Youth Council to do seminars in schools across the country. In 2013, he added a yearly Youth Summer Camp to create responsible citizens, with human rights an integral part.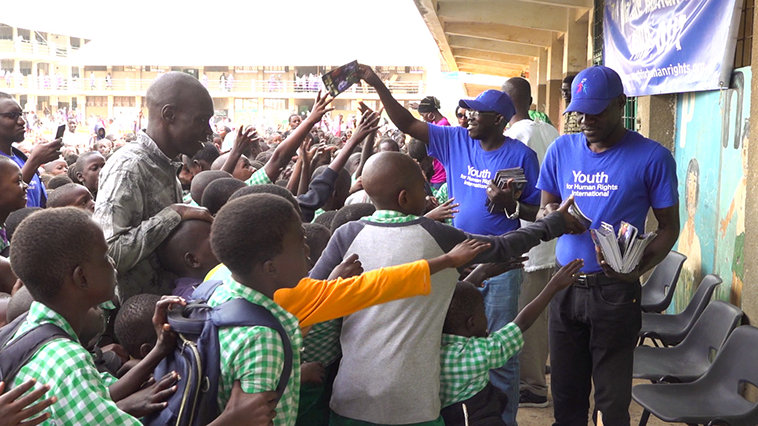 Jawneh not only teaches human rights but puts them into practice. This includes a campaign to get clean drinking water and solar power to villages in accordance with Article 25 of the UDHR: "Everyone has the right to a standard of living adequate for the health and well-being of himself and of his family."
In 2016, determined to have a fair election, seven political parties banded together to support one candidate, Adama Barrow. Article 21 states, "The will of the people shall be the basis of the authority of government; this will shall be expressed in periodic and genuine elections." Therefore, Jawneh and his team did a series of radio shows and social media videos to encourage youth to participate in the democratic process and vote. Long lines graced the polling stations. Barrow won.
Jawneh and his team expanded their work to now repair the 22 years of damage to the foundation of the nation. They increased their work with schools, establishing 25 Human Rights Clubs and a plan with the Ministry of Basic and Secondary Education for the 2017-2019 school years. All the while he promoted human rights through media reaching over 400,000.
He has now educated more than 20,000 Gambians in every region. Upon meeting the new President of The Gambia, he presented the YHRI materials. The country finally established an independent National Human Rights Commission to ensure human rights continue to be respected in The Gambia.