NEWS
‣
MAKING HUMAN RIGHTS A GLOBAL REALITY
HUMAN RIGHTS SHIPPED AROUND THE WORLD
Maersk took educating their employees on human rights into their own hands.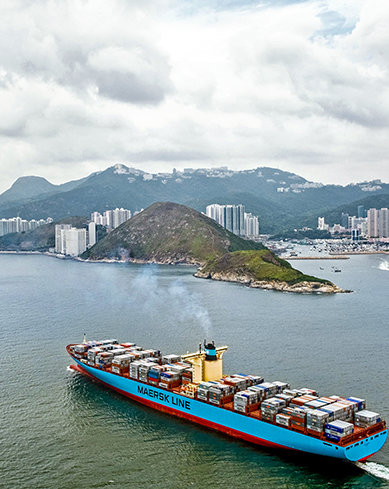 Maersk, a Danish international transport and logistics company, is the largest container shipping company in the world by both fleet size and cargo capacity, serving 343 ports in 121 countries. Such reach means the company is both staffed by and delivers to the widest possible diversity of people from different cultures, ethnics, religions and languages. Their website reads: "Maersk respects the human rights of everyone affected by our business. We take constant care to avoid causing or contributing to adverse impacts on people—whether in our company, in our supply chain or in the communities where we operate."
When the employee relations specialist at Maersk wanted to find a way to educate their over 60,000 employees in human rights, the United for Human Rights educational materials proved to be a gold mine. Maersk incorporated The Story of Human Rights documentary into the new mandatory online course for their employees which covers human rights, labor rights and a UN program for businesses to adopt sustainable and socially responsible policies. Since they launched the course in 8 languages, 66 percent of their employees with access to a computer have completed the training. Maersk wrote that they chose the documentary because it "shows people from all over the globe with different backgrounds," and it "clearly sets out where human rights came from."
---
WE REALLY WANT TO

hear

FROM YOU
Here is what some of our partners had to say about our 16th annual Youth for Human Rights International Summit.
PROGRAM MANAGER, NATIONAL YOUTH COUNCIL, THE GAMBIA
"I write on behalf of the National Youth Council and young people of The Gambia to extend appreciation to your noble organization for the unflinching support you have been rendering to schools and people across The Gambia. This intervention has indeed contributed to the promotion of peace and human rights education in the country."
PRESIDENT, NATIONAL HUMAN RIGHTS COMMISSION, MEXICO
"It was an honor to participate in the 16th annual Youth for Human Rights International Summit. I would like to reiterate my gratitude for the distinction of being invited. Likewise, I would like to inform you that the activity that motivates young people to become advocates and promoters of peace and tolerance worldwide is praiseworthy. Even more important is that their commitments serve them with the responsibility and dedication that the defense of human rights demands. Congratulations for the excellent work done to carry out this important event. It promotes collaboration that forwards the objective of building a more peaceful world."
COUNCILOR, LAZIO REGION, ITALY
"Your tradition is bringing together young people from all over the world to share, encourage and inspire peace and global equality by teaching the new generations the principles of human rights. This effort is leading them to become supporters of tolerance and peace. Inspired by your activity, I presented and asked for a unanimous vote for a law in the Lazio region establishing Youth for Human Rights Day to disseminate and make known to the young people of the entire region the 30 articles of the Universal Declaration of Human Rights."
---
FACTS
A YEAR IN REVIEW
A year of ever-increasing reach for United for Human Rights and Youth for Human Rights materials is demonstrated by these statistics:
52,068
SCHOOLS
around the world are using Youth for Human Rights materials to teach human rights
31,722
ORDERS
were placed in one year by people in 175 nations for United for Human Rights and Youth for Human Rights materials
91,873
STUDENTS
were educated on their human rights in one year
774,073
BOOKLETS
were distributed internationally in one year to teach people their human rights
4.9
MILLION
visitors in one year have been to youthforhumanrights.org and humanrights.com
---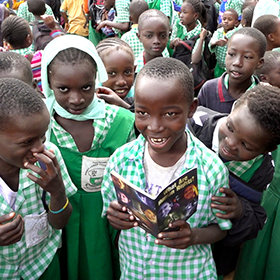 PROTECT THEIR RIGHTS
Join the international human rights movement by becoming a member of United for Human Rights. UHR assists individuals, educators, organizations and governmental bodies in all parts of the world to raise awareness of the Universal Declaration of Human Rights.