NEWS
‣
MAKING HUMAN RIGHTS A GLOBAL REALITY
YHR NEPAL HOLDS INTERNATIONAL GATHERING ON SUSTAINABLE DEVELOPMENT GOALS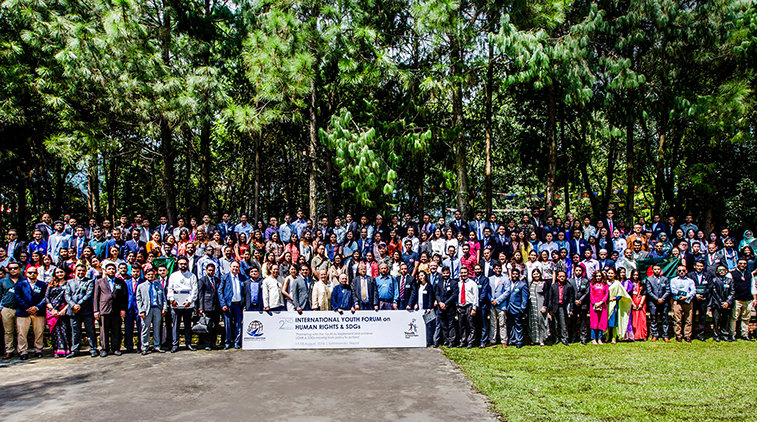 Delegates from around the world gather in Kathmandu, Nepal, joining forces to change the world through human rights education.
The International Youth Forum on Human Rights and SDGs (Sustainable Development Goals—set by the United Nations), organized by Youth for Human Rights Nepal, was held in Kathmandu. Its theme was "Partnering with youth to achieve SDGs: Moving from policy to action." The two-day conference brought together passionate, like-minded individuals who were united in a vow to change the world. The conference's focus was empowering youth in participating in the implementation, monitoring and evaluation of human rights as related to the SDGs.
The SDGs are related to poverty, inequality, climate, environmental degradation, prosperity, peace and justice. Targeted to be achieved by 2030, each goal relates to one of the 30 human rights articles of the Universal Declaration of Human Rights (UDHR). This includes the goal to achieve full gender equality, to have no poverty, to have zero hunger, to have quality education and more.
"We commit to action, including educating in human rights in the formal and informal education sectors."
More than 200 young delegates from 16 countries exchanged views, shared experiences and developed realistic action plans to rebuild communities. The Right Honorable Ganesh Prasad Timilsina, chairman of the National Assembly of Nepal, inaugurated the event. Other dignitaries attending were representatives from the National Human Rights Commission, National Youth Council, the World Bank and International Centre for Integrated Mountain Development.
The conference closed with the signing of a Youth Declaration stating, in part, "We commit to action, including educating in human rights in the formal and informal education sectors and achieving the SDGs in the wider community and particularly the vulnerable.… We urge all the Peoples, particularly our fellow youth to move from policy to actions by educating ourselves regarding the UDHR and commit ourselves to the SDGs for the benefit of our communities, our countries and the world."
---
FACTS
THE REALITY OF POVERTY
Article 25 of the UDHR guarantees food and shelter for all, but here is the reality.
3 BILLION
PEOPLE
(nearly half the world's population) live on less than $2.50 a day
1.3
BILLION
of those live on less than $1.25 a day— in extreme poverty
22,000
CHILDREN
die each day due to poverty
151
MILLION
children under the age of 5 were stunted in their growth due to chronic malnutrition in the year 2017
842,000
PEOPLE
are estimated to die each year due to inadequate access to clean drinking water, sanitation and hand hygiene
---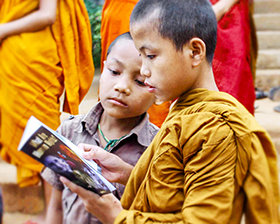 YOU CAN HELP
Join the international human rights movement by becoming a member of United for Human Rights. UHR assists individuals, educators, organizations and governmental bodies in all parts of the world to raise awareness of the Universal Declaration of Human Rights.