NEWS
‣
MAKING HUMAN RIGHTS A GLOBAL REALITY
FILLING THE VOID ON HUMAN RIGHTS
United for Human Rights provides much-needed educational materials to teachers.
The National Educators Association (NEA) is the United States' largest professional employee organization, with members from all levels of education. Many teachers in the area of social studies, history, government or similar studies are looking for ways to teach their students about human rights.
That is why the United for Human Rights (UHR) and Youth for Human Rights materials are made available to them free of charge at NEA's annual conferences. This year was no different with a UHR booth at NEA's 156th Annual Meeting held at the Minneapolis Convention Center in Minnesota.
More than 220 educators ordered UHR and YHR Education Packages, all sharing the many different ways the materials would fit into their various curricula. This included ones not so obvious, such as the band teacher who, on seeing Article 27 of the Universal Declaration of Human Rights, "The Right to Copyright," realized that his aspiring musicians needed to know their rights.
Some teachers already had the materials and shared how they had been using them. One teacher said, "I teach a civil rights unit. I start with the human rights booklets. Now I use the videos and booklets to actually handle conflicts in the classroom." A representative from the California Teachers Association was ecstatic to see our booth as she has already been working to reach all California teachers with the materials. So far, 200 use them.
---
WE REALLY WANT TO

HEAR

FROM YOU
Humanrights.com and youthforhumanrights.org provide resources, free of charge and downloadable, for anyone to teach human rights. Here is what those who are using them say.
COMMISSIONER, COUNTY HUMAN RIGHTS COMMISSION, MASSACHUSETTS, USA
"I have worked in the field of special education for 40-plus years and cannot recall ever being more inspired by a group of adolescents than I am at these annual events. We provide each participant with a folder of human rights material for their individual independent study. Thanks to your generosity, this year the packet included your booklet What Are Human Rights? The publication is immensely readable and contains complex information in a thorough and understandable format. We thank you for your assistance and wish you continued success with your work."
EDUCATOR, BRAZIL
"I can assure you that the materials you sent have been of paramount importance to the development of our work, because they illuminate and inspire our pedagogical ideas. We thank you very much (I, the school, the pupils and the community) for sending the materials, because certainly many of those young people will plant that seed of peace and justice that Youth for Human Rights International and United for Human Rights help to sow."
UNITED NATIONS INSTITUTE FOR TRAINING AND RESEARCH, NEW YORK
"Thank you so much for sending the materials and following up. The materials have been extremely useful. We have given them out, and I presented them to the delegates who were arriving to New York for the first time."
TEACHER, COMMUNITY CENTER, CANADA
"Thanks again for the materials. I used them with my 6th/7th-grade class. The lessons are very well organized and easy to use. I think it's really important for students to understand that not everyone has the same opportunities as we do in Ontario. These lessons also fit in nicely with our social justice course."
---
FACTS
THE REALITY OF POVERTY
Article 25 of the UDHR guarantees food and shelter for all, but here is the reality.
3 BILLION
PEOPLE
(nearly half the world's population) live on less than $2.50 a day
1.3
BILLION
of those live on less than $1.25 a day— in extreme poverty
22,000
CHILDREN
die each day due to poverty
151
MILLION
children under the age of 5 were stunted in their growth due to chronic malnutrition in the year 2017
842,000
PEOPLE
are estimated to die each year due to inadequate access to clean drinking water, sanitation and hand hygiene
---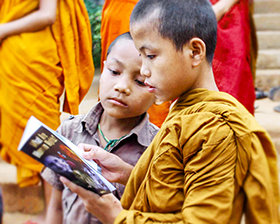 YOU CAN HELP
Join the international human rights movement by becoming a member of United for Human Rights. UHR assists individuals, educators, organizations and governmental bodies in all parts of the world to raise awareness of the Universal Declaration of Human Rights.